Prescott Stamp Club meeting and lunch, 1 p.m. Jan. 23, Palace Restaurant, 120 S Montezuma St.
Stories this photo appears in: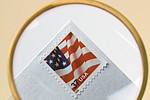 Mental Health First Aid for Older Adults and Those with Later-Life Issues, 9 a.m. to 1 p.m., Catholic Charities, 434 W. Gurley St., Prescott. Register at 928-460-5571 or email bbrehio@nacog.org.