Gurley Street's steep Elks Hill, in front of the Elks Theater, was among the first streets to be closed on New Year's Eve Day, Dec. 31, 2018. As the storm progressed throughout the day, many other area streets and highways also were closed because of icy conditions and car crashes. (Cindy Barks/Courier)
Stories this photo appears in: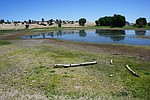 Despite a rocky start, 2018 ended up nearly reaching average annual rainfall levels for the Prescott area.