A monsoon storm brings rain and lightning to Prescott Valley on Tuesday, July 17, 2018. A free Monsoon/Severe Weather Spotter Training will be held on May 17, 2019, at the Spring Valley Library, 17320 E. Mule Deer Drive. (Taylor Dalton/Courtesy, file)
Stories this photo appears in: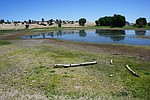 Despite a rocky start, 2018 ended up nearly reaching average annual rainfall levels for the Prescott area.