Dean Thompson, left, and Nate Starin, traffic control employees with the Prescott Public Works Department, installs a new sign along Iron Springs Road that alerts drivers to the city's new ban on using hand-held electronic devices while driving. The sign was one of a number of similar warnings that will be going up along Prescott streets in coming days. After a month-and-a-half-long education/warning period, the Police Department was authorized, beginning Jan. 1, to begin citing offenders of the new ordinance. (Cindy Barks/Courier)
Stories this photo appears in: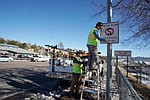 It is now official virtually everywhere in the quad-city area: Use a hand-held cellphone while driving, and be subject to a fine of $100 or more.