This 2018 photo shows a stone pavers driveway in a residential neighborhood in Dallas, Texas. One driveway at a time, many homeowners and communities are opting for permeable paving options instead of traditional asphalt. (AP Photo/Benny Snyder)
Stories this photo appears in: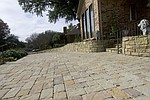 We are contemplating installing pavers for our driveway and are a little nervous about the installation process, the disruption of travel in and out of the garage, and hope that you have some YCCA's helpful hints. — Lewis and Margaret, Prescott.