Blueberries like these near Langley, Wash., must be fertilized if fruit is to develop. Native bees, bumblebees and honeybees are among the diverse group of invertebrate pollinators that make it happen. (Dean Fosdick via AP)
Stories this photo appears in: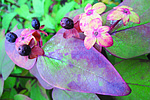 Planting clumps of bright, successively bloo ming flowers is a popular method for attracting foraging pollinators like bees and butterflies.