Oklahoma City Thunder Hamidou Diallo leaps over former NBA player Shaquille O'Neal during the All-Star Slam Dunk contest, Saturday, Feb. 16, 2019, in Charlotte, N.C. Diallo won the contest. (AP Photo)
Stories this photo appears in: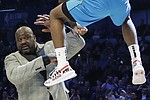 CHARLOTTE, N.C. — Boston's Jayson Tatum got his gamewinner from midcourt. Oklahoma City's Hamidou Diallo went over Shaquille O'Neal to help win his trophy. And Brooklyn's Joe Harris made all the shots at all the right times to deny Golden State's Stephen Curry a storybook ending in his hometown.
By TIM REYNOLDS, AP Basketball Writer
February 16, 2019