Aaron Francisco Chavez. (Seanna Leilani via AP)
Stories this photo appears in: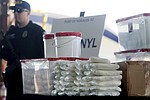 Aaron Francisco Chavez swallowed at least one of the sky blue pills at a Halloween party before falling asleep forever. He became yet another victim killed by a flood of illicit fentanyl smuggled from Mexico into the Southwest.
By ANITA SNOW, Associated Press
February 13, 2019