Attorney Marc J. Victor speaks to the media concerning his client, Johnny Wheatcroft, Monday, Feb. 11, 2019, in Chandler, Ariz. as Wheatcroft's wife, Anya Chapman, right, listens. Victor has filed a lawsuit on behalf of Wheatcroft claiming the Glendale, Ariz. police dept. used excessive force against Wheatcroft during his arrest in 2017. (Matt York/AP)
Stories this photo appears in: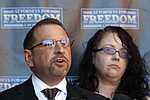 PHOENIX — Arizona's governor says an excessive force investigation into police in a Phoenix suburb seems to have been "whitewashed" and should be reopened.
By JONATHAN J. COOPER, Associated Press
February 13, 2019