Authorities escort Joaquin "El Chapo" Guzman, center, from a plane to a waiting caravan of SUVs on Jan. 19, 2017, at Long Island MacArthur Airport, in Ronkonkoma, N.Y. The Sinaloa cartel marches on following the conviction in New York of kingpin Joaquin "El Chapo" Guzman on Tuesday, Feb. 12, 2019. (U.S. law enforcement via AP, File)
Stories this photo appears in: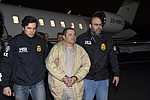 MEXICO CITY — Despite the arrest, extradition and now conviction of narco-lord Joaquin "El Chapo" Guzman, his Sinaloa cartel marches on — and the proof is in huge, multi-drug shipments detected on the border in recent weeks.
By MARIA VERZA and MARK STEVENSON, Associated Press
February 12, 2019