Over the years, the Prescott Community Garden produced successful crops of tomatoes, squash, peas, beans, and other produce. Organizers say 21 gardening spaces were available, and about three-fourths of those were rented this past year by individuals and organizations. (Cindy Barks/Courier)
Stories this photo appears in: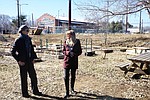 The time to plant has ended at the Prescott Community Gardens, and not without some heartbreak.