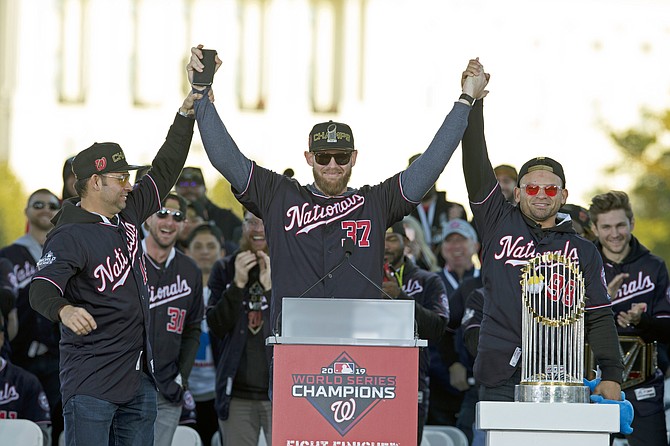 FILE - In this Nov. 2, 2019, file photo, Washington Nationals pitcher and World Series MVP Stephen Strasburg, center, celebrates the World Series baseball championship during a rally following a parade to celebrate the team's World Series baseball championship over Houston Astros, in Washington. Nationals right fielder Gerardo Parra is right and pitcher Anibal Sanchez, left. World Series MVP Stephen Strasburg is staying with the Washington Nationals. The right-hander has agreed to a record $245 million, seven-year contract, a person familiar with the negotiations told The Associated Press on Monday, Dec. 9, 2019. The person spoke on condition of anonymity at baseball's annual winter meetings because the agreement had not been announced. (AP Photo/Jose Luis Magana, File)
Stories this photo appears in: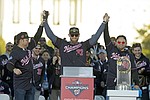 Stephen Strasburg is returning to Washington with a record contract, and fellow free agent pitcher Gerrit Cole could be in line for an even larger payday.
By RONALD BLUM Associated Press
December 9, 2019