On Oct. 17, 2003, Brandon Rumbaugh and his girlfriend Lisa Gurrieri left Scottsdale for an overnight camping trip north of Phoenix and never came home. They were found dead in the bed of a Ford F-150 pick-up truck near Bumble Bee, Arizona. (Yavapai Silent Witness/Courtesy)
Stories this photo appears in: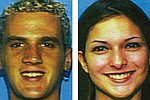 Yavapai Silent Witness is offering a $10,000 reward for information that leads authorities to an arrest of the suspect responsible for a 2003 double murder near Bumble Bee, according to spokesperson Chris Wilson on Wednesday night.