In this Friday, Aug. 16, 2019, photo, chemist David Dawson pours pieces of a cannabis-infused chocolate bar into a vial as he demonstrates testing for THC and other chemicals at CW Analytical Laboratories in Oakland, Calif. Chemists are trying to solve a scientific mystery involving marijuana brownies. Chocolate seems to throw off test results for potency. That could be dangerous for consumers looking to relax, not hallucinate. (AP Photo/Jeff Chiu)
Stories this photo appears in: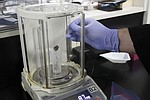 How much marijuana is really in that pot brownie? Chocolate can throw off potency tests so labels aren't always accurate, and now scientists are trying to figure out why.
By CARLA K. JOHNSON Associated Press
August 26, 2019