With so much new construction being built in the Prescott/Prescott Valley areas how much is being bought up by real estate speculators buying up homes in neighborhoods for the sole purpose of turning them into short-term rentals. (Les Stukenberg/Courier)
Stories this photo appears in: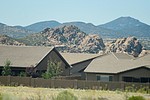 Acknowledging it hasn't quite worked as promoted, Gov. Doug Ducey wants to take a new look at legislation he signed three years ago that pretty much stripped cities of their ability to regulate vacation rentals.