This undated photo provided by the Dayton Police Department shows Connor Betts. The 24-year-old masked gunman in body armor opened fire early Sunday, Aug. 4, 2019, in a popular entertainment district in Dayton, Ohio, killing several people, including his sister, and wounding dozens before he was quickly slain by police, officials said. (Dayton Police Department via AP)
Stories this photo appears in: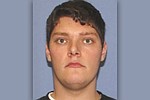 Disturbing behavior that the Dayton gunman reportedly exhibited in his youth may be detailed in law enforcement and school files so far off limits to the public, records that could shed light on whether authorities properly handled early warning signs.
By JULIE CARR SMYTH Associated Press
August 16, 2019