In this Thursday, July 11, 2019, photograph, United States Department of Agriculture intern Alex Olsen prepares to place down a drone at a research farm northeast of Greeley, Colo. Researchers are using drones carrying imaging cameras over the fields in conjunction with stationary sensors connected to the internet to chart the growth of crops in an effort to integrate new technology into the age-old skill of farming. (AP Photo/David Zalubowski)
Stories this photo appears in: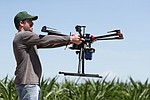 A drone soared over a blazing hot cornfield in northeastern Colorado on a recent morning, snapping images with an infrared camera to help researchers decide how much water they would give the crops the next day.
By DAN ELLIOTT Associated Press
August 13, 2019