Arizona's supply of rental housing currently meets only one-fourth of the state's need, a National Low Income Housing Coalition report stated. That means the state has only 25 affordable and available rental units for every 100 extremely low-income rental households. That is down from 26 units in 2018. The number nationwide is 37 units for 2019. (Courier file photo)
Stories this photo appears in: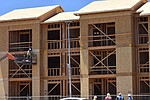 Keeping housing affordable is a challenge for the entire Quad Cities, and it would go a long way in helping people stay here.