In this Aug. 6, 2019, file photo trader Tommy Kalikas works on the floor of the New York Stock Exchange. This past week was a wild one for the U.S. stock market. (Richard Drew/AP, File)
Stories this photo appears in: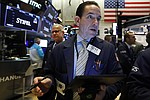 Stocks stumbled Friday as worries flared yet again that President Donald Trump's trade war with China may be worsening.