In this Jan. 13, 2014 file photo, former California State Sen. Kevin de Leon, D-Los Angeles, displays a homemade fully automatic rifle, confiscated by the Department of Justice, at the Capitol in Sacramento, Calif. California is among a handful of states taking tough actions to limit the availability of guns including military-style assault weapons, restrict the capacity of ammunition magazines and require background checks for purchasing bullets. But those steps and future gun control laws passed by Democratic-leaning states could face an uphill battle as the federal court system becomes increasingly dominated by conservative Republican appointees.(Rich Pedroncelli/AP, File)
Stories this photo appears in: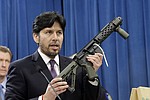 California has some of the toughest gun laws in the nation, including a ban on the type of high-capacity ammunition magazines used in some of the nation's deadliest mass shootings.
By DON THOMPSON, Associated Press
August 10, 2019