Surrounded by survivors of those killed by texting motorists, Gov. Doug Ducey signs a ban on texting while driving into law Monday, April 22, 2019, in Phoenix. (Coutesy)
Stories this photo appears in: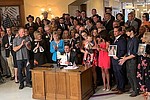 The Republican architect of the texting ban signed into law Monday by Gov. Doug Ducey said it could not have been done if a former Democrat senator had not paved the way.