President Donald Trump walks toward the steps of Air Force One at Andrews Air Force Base in Md., Monday, April 15, 2019. Trump is heading to Minnesota for a tax day event. (Susan Walsh/AP)
Stories this photo appears in: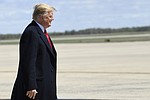 WASHINGTON — Top administration officials have been discussing ways to increase pressure on countries with high numbers of citizens who overstay short-term visas, as part of President Donald Trump's growing focus on immigration heading into his re-election campaign.