The Peaks View mixed-use project, planned on an approximately nine-acre parcel at the corner of Highway 69 and Robin Drive, got site-plan and water-service approval from the Prescott City Council this past week. The developer said groundbreaking on the apartment/commercial project could take place by about January 2021. (Map and artist renderings/Courtesy)
Stories this photo appears in: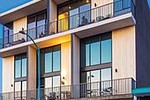 With approval of a new apartment project this past week and the pending groundbreaking for another, a total of five large complexes could soon be under construction within Prescott city limits.