Christopher Matthew Clements is arraigned via video in Pima County Superior Court in Tucson, Ariz., Monday, Sept. 24, 2018. Clements, a convicted sex offender who was indicted this month in the slayings of two Arizona girls who disappeared and were later found dead years ago, faced arraignment Monday on charges of first-degree murder, kidnapping and sexual exploitation of a minor. (Rick Wiley/Arizona Daily Star via AP)
Stories this photo appears in: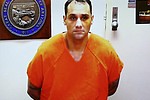 PHOENIX — For years, police couldn't figure out how a 6-year-old girl was taken from her bedroom window while she slept in her family's Arizona home, never to be seen again.
By ASTRID GALVAN and JACQUES BILLEAUD, Associated Press
September 24, 2018