In this Sept. 17, 2008, file photo trader Christopher Crotty rubs his eyes as he works on the floor of the New York Stock Exchange. Home prices had sunk, and foreclosure notices began arriving. Layoffs began to spike. Tremors intensified as Lehman Brothers, a titan of Wall Street, slid into bankruptcy on Sept. 15, 2008. The financial crisis touched off the worst recession since the 1930s Great Depression. (Richard Drew/AP, File)
Stories this photo appears in: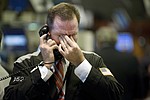 A decade ago, as Lehman Brothers went bust and the fragile financial system was teetering, fund investors wondered how bad it could get.