In this Tuesday, Sept. 4, 2018 file photo, Fred Guttenberg, the father of Jamie Guttenberg who was killed in the Stoneman Douglas High School shooting in Parkland, Fla., left, attempts to shake hands with President Donald Trump's Supreme Court nominee, Brett Kavanaugh, right, as he leaves for a lunch break while appearing before the Senate Judiciary Committee on Capitol Hill in Washington to begin his confirmation hearing. Kavanaugh did not shake his hand. Kavanaugh wrote in a response to questions from senators late Wednesday, Sept. 12, 2018, that he assumed the man had been a protester. (AP Photo/Andrew Harnik, File)
Stories this photo appears in: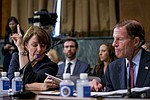 Sen. Dianne Feinstein, the top Democrat on the Senate Judiciary Committee, said Thursday she has notified federal investigators about information she received — and won't disclose publicly — concerning Supreme Court nominee Brett Kavanaugh.
By LISA MASCARO, AP Congressional Correspondent
September 13, 2018