Jim Wilmington grills burgers at a tailgate party in front of Chino Valley High School prior to the Cougars' home opener Friday, Sept. 7. The tailgater was sponsored by the football booster club for the home opener. Future tailgaters include Sept. 28 (versus Kingman Academy) for Youth Night, and Oct. 26 (versus Northwest Christian) for Senior Night. On Sept. 7, Chino Valley battled Camp Verde for the Bronze Boot, which the Cougars retained again — in a 42-0 effort. (Jason Wheeler/Review)
Stories this photo appears in: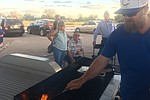 Come for casual conversation with your local law enforcement from 8 to 9 a.m. Wednesday, Sept. 26 at Overflow Coffee Shop, 448 N. Highway 89, Chino Valley.