President Donald Trump's Supreme Court nominee Brett Kavanaugh testifies before the Senate Judiciary Committee on Capitol Hill in Washington, Thursday, Sept. 6, 2018, for the third day of his confirmation hearing to replace retired Justice Anthony Kennedy. (Alex Brandon/AP Photo)
Stories this photo appears in: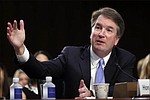 I tried to pay attention to what Judge Brett Kavanaugh was saying during the hearings last week. For anyone as addicted to the Supreme Court as I am, a nomination hearing is more exciting than the return of Halley's Comet, and only slightly more common.