Members of passenger families, friends and volunteer repesentatives pull the ropes to ring the chimes at the dedication of the 93-foot tall Tower of Voices on Sunday, Sept. 9, 2018 at the Flight 93 National Memorial in Shanksville, Pa. The tower contains 40 wind chimes representing the 40 people that perished in the crash of Flight 93 in the terrorist attacks of Sept. 11, 2001.(Keith Srakocic, Pool, AP Photo)
Stories this photo appears in: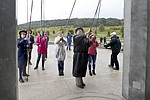 SHANKSVILLE, Pa. — The heroism of airline passengers and crew who died when hijackers crashed their plane into a Pennsylvania field was remembered Sunday with the dedication of a concrete-and-steel tower that will ring with wind chimes for every one of them at the spot where they fell to earth.
By MARK SCOLFORO, Associated Press
September 9, 2018