An San Antonio Animal Care Services officer carries a bag containing a snake removed from a home in the 500 block of Kayton Avenua on San Antonio's Southside, Wednesday, Sept. 5, 2018. Around 100 snakes, including two 12-15 foot long reticulated pythons were discovered at the home. (Josie Norris /The San Antonio Express-News via AP)
Stories this photo appears in: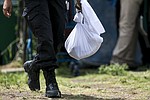 Animal control officials have removed more than 100 snakes and more than 400 rodents from a San Antonio home following concerns about the animals' living conditions.