On United Express' third day of operation at the Prescott Regional Airport, strong winds and high temperatures caused the airline (operated by SkyWest) to seek a lighter passenger load on its Prescott-to-Los Angeles flight. Fifteen passengers reportedly volunteered to give up their seats Aug. 31, 2018, in exchange for flight vouchers and incentives. (Cindy Barks/Courier)
Stories this photo appears in: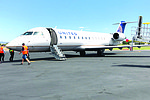 A nearly fully booked plane, strong winds, and high temperatures all combined Friday, Aug. 31, to unseat about 15 passengers from a United Express flight from Prescott to Los Angeles.