Jenna Loring, left, the aunt of Ashley HeavyRunner Loring, cries with her cousin, Lissa Loring, during a traditional blanket dance before the crowd at the North American Indian Days celebration on the Blackfeet Indian Reservation in Browning, Mont., Saturday, July 14, 2018. The 'dance' was held to raise awareness and funds for Ashley's search. With just about 1,000 residents on the reservation, many folks are related and secrets have a way of spilling out. "There's always somebody talking," says Lissa, "and it seems like to us since she disappeared, everybody got quiet. I don't know if they're scared, but so are we. That's why we need people to speak up." (AP Photo/David Goldman)
Stories this photo appears in: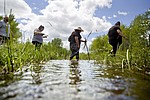 The searchers rummage through the abandoned trailer, flipping over a battered couch, unfurling a stained sheet, looking for clues.
By SHARON COHEN, AP National Writer
September 5, 2018