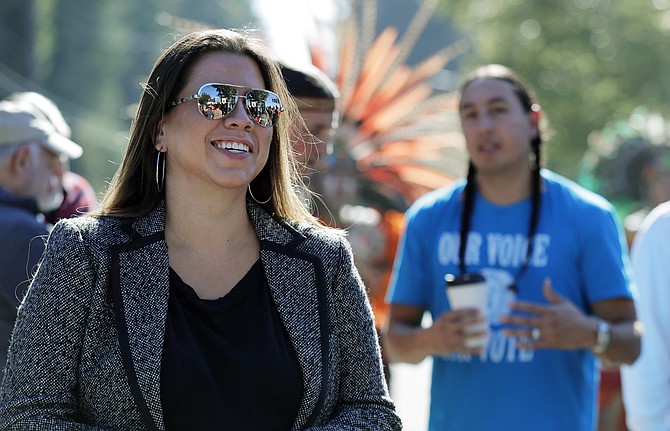 In this Oct. 17, 2018 photo, Nicole Willis, left, a member of the Confederated Tribes of the Umatilla Reservation who lives in Seattle, listens to speakers at a rally in Lacey, Wash. Willis grew up hours away from the Confederated Tribes of the Umatilla Reservation in the Pacific Northwest, which she calls home. She traveled often from Seattle for cultural events and to spend summers with her grandmother. To her, being Native American means her family is part of a distinct, interconnected community that has existed since ancient times. Her tribe requires citizens to be one-quarter Native American, with 1/16 specific to the tribe, but she said "theoretically, it shouldn't matter." (Ted S. Warren/AP)
Stories this photo appears in:
FLAGSTAFF, Ariz. — Jon Rios traces his ancestry to the Pima people of Arizona, but he has no tribal enrollment card, lives in Colorado and isn't exactly sure what percentage Native American he is.
By FELICIA FONSECA, Associated Press
October 20, 2018