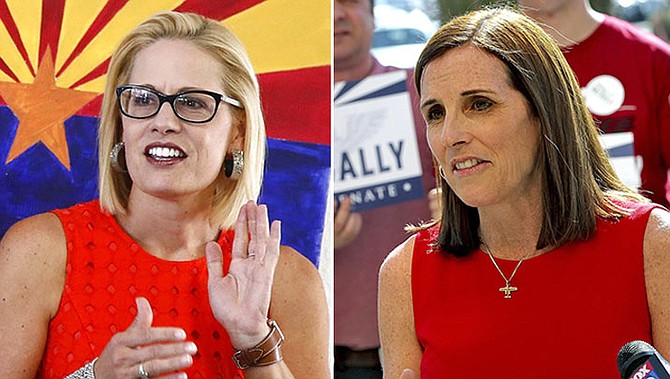 Rep. Kyrsten Sinema, D-Ariz., left, and Republican Martha McSally are seeking the seat being vacated by retiring Sen. Jeff Flake, which could determine which party controls the Senate next year. (Ross D. Franklin and Matt York/AP, file)
Stories this photo appears in: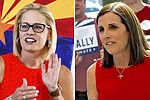 PHOENIX — A contentious race that will end with Arizona's first female U.S. senator and a governor's race featuring Republican Doug Ducey against challenger Democrat David Garcia as Ducey seeks a second term top the ticket in the state's 2018 general election.
By BOB CHRISTIE, Associated Press
November 4, 2018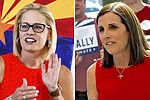 The race to pick a new U.S. Senator from Arizona underscores the tenor, tactics and tightness of the 2018 midterm elections.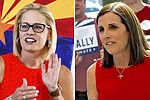 Two congresswomen will face off in the sole Arizona Senate debate Monday evening, capping a contest that could determine which party controls the U.S. Senate. The race pits two triathletes and congresswomen against each other who have won multiple elections in swing districts.
By NICHOLAS RICCARDI, Associated Press
October 15, 2018