Tana Brown, president of Bike Prescott, told the Prescott City Council this week that the organization supports the proposed city ban on use of handheld electronic devices while driving. On Tuesday, Oct. 9, the council considered a ban, which, if approved, could go into effect by late 2018/early 2019. (Cindy Barks/Courier)
Stories this photo appears in: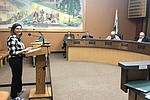 Ever since her arrival in Prescott two-and-a-half years ago, Police Chief Debora Black says a common question has consistently arisen during her meetings with members of the public.