Residents stand looking at a collapsed school damaged by a magnitude 5.9 earthquake the night before, in Gros Morne, Haiti, Sunday, Oct. 7, 2018. Emergency teams worked to provide relief in Haiti on Sunday after the quake killed at least 11 people and left dozens injured. (Dieu Nalio Chery/AP)
Stories this photo appears in: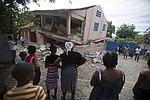 PORT-DE-PAIX, Haiti — Survivors sifting through the rubble of their earthquake-toppled cinderblock homes in Haiti on Sunday were rattled by a magnitude 5.2 aftershock that caused panic and threatened to raise the death toll even further from 12.