Piper and Lil-Wayne wait patiently on their tables for those finishing touches before heading into the ring. (Christy Powers/Courtesy)
Stories this photo appears in: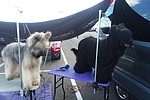 Purebred dogs, puppy mill dogs, backyard breeders and rescue organizations: all of these produce adorable and irresistible puppies. But there are a few other things to consider besides cuteness.