Alexander Tobolsky, right, and his girl friend Dina Arias, return to his home where burned out by the fire in Malibu, Calif., Saturday, Nov. 10, 2018. Officials took advantage of temporarily calm conditions Saturday to assess damage from the blaze that's burned 109 square miles outside downtown Los Angeles.(Ringo H.W. Chiu/AP)
Stories this photo appears in: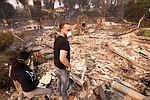 MALIBU, Calif. — Two people were found dead and scores of houses from the celebrity mansions of Malibu to the mobile homes of seniors in the suburbs burned in a pair of wildfires that stretched across more than 100 square miles of Southern California, authorities said Saturday.
By JONATHAN J. COOPER and ANDREW DALTON, Associated Press
November 10, 2018