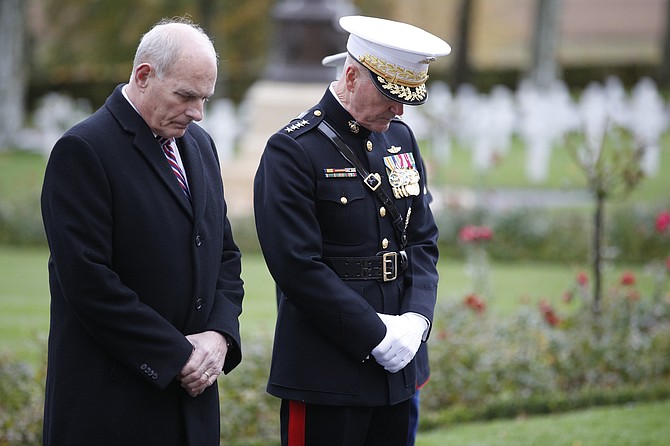 White House Chief of Staff John Kelly, left, and Chairman of the Joint Chiefs of Staff, Marine Gen. Joseph Dunford bow during for a ceremony at the Aisne Marne American Cemetery near the Belleau Wood battleground, in Belleau, France, Saturday, Nov. 10, 2018. Belleau Wood, 90 kilometers (55 miles) northeast of the capital, Iis the place where U.S. troops had their breakthrough battle by stopping a German push for Paris shortly after entering the war in 1917. (Francois Mori/AP)
Stories this photo appears in: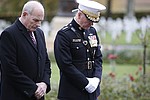 PARIS — Traveling from across the world to monuments honoring soldiers who fell 100 years ago, victors and vanquished alike marked those sacrifices Saturday ahead of Armistice Day and assessed alliances that have been redrawn dramatically since the dark days of World War I.
By RAF CASERT and ANGELA CHARLTON, Associated Press
November 10, 2018