A man walks past a mural showing Savita Halappanavar, a 31-year-old Indian dentist who had sought and been denied an abortion before she died after a miscarriage in a Galway hospital, with the word YES over it, in Dublin, Ireland, on the day of a referendum on the 8th amendment of the constitution. The referendum on whether to repeal the country's strict anti-abortion law is being seen by anti-abortion activists as a last-ditch stand against what they view as a European norm of abortion-on-demand, while for pro-abortion rights advocates, it is a fundamental moment for declaring an Irish woman's right to choose. (Niall Carson/PA via AP)
Stories this photo appears in: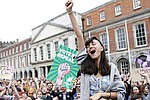 DUBLIN — Irish voters cleared the way for abortions to be legal in their country for the first time by repealing a constitutional ban on the procedure and authorizing legislators to reflect the popular will by giving pregnant women a choice, results from a landmark referendum showed Saturday.
By GREGORY KATZ and RENATA BRITO, Associated Press
May 26, 2018