Tucson police have identified the hooded teen in these 2013 surveillance images as Matthew Montano. Investigators determined Montano killed 22-year-old convenience store clerk Erick Bridges. But when officers went to locate him they learned that Montano had killed himself in 2014, a year after the confrontation. He was 18 years old. (Tucson Police Department)

Stories this photo appears in: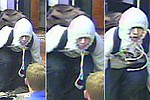 Tucson police say they've determined that a man who died in 2014 at age 18 was the person who fatally stabbed a convenience store clerk during a confrontation the previous year.