James Ten Eyck, 6 years old (from back to front), Miles Mathis, 6 years, Jacob Griess, 6 years, Chaz Moll, 5 years, Faith Calderon, 6 years, Blake Belmore, 5 years, Joshua Kayser, 6 years, Olivia Moretti, 6 years. Taylor Hicks students in Melanie Goldsmith's kindergarten class. (Denise Murphy/Courtesy)
Stories this photo appears in: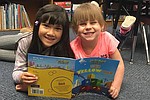 Talk is cheap – and priceless. Just ask Denise Murphy, a veteran Taylor Hicks Elementary School teacher in Prescott who is in her third year as director of the Arizona Reads Now early childhood literacy project.