In a Thursday, Oct. 19, 2006 file photo, former heavyweight champion Mike Tyson pumps his fist in the air during his weigh-in at the Chevrolet Centre in Youngstown, Ohio. Living Word Sanctuary Church is converting a Southington Township, Ohio mansion once owned by Tyson into a house of worship. (AP Photo/Mark A. Stahl, File)
Stories this photo appears in: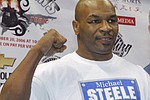 A garishly appointed Ohio mansion that heavyweight boxing champion Mike Tyson once called home and subsequently fell into disrepair is being converted into a house of worship.