The Granite Mountain Hotshots Memorial Partnership has released an artist's rendering of the memorial that is planned for the Yavapai County Courthouse Plaza to honor the 19 Granite Mountain Hotshots who died fighting the June 2013 Yarnell Hill Fire. From the front, the memorial – designed by Arizona sculptor Deborah Fellows – features a bronze Hotshot statue alongside the names of the fallen. And from the back, the sculpture's granite slabs will feature an etching of the giant alligator juniper that the Hotshots saved during the Doce Fire just days before they died in the Yarnell Hill Fire.
Stories this photo appears in: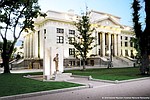 A public presentation on the Hotshots memorial planned for the Yavapai County Courthouse Plaza will take place during the Prescott City Council meeting Tuesday, July 24.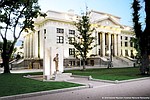 A lone Hotshot backed by a stylized granite-slab image of Granite Mountain is expected to soon join the cowboys and veterans that already grace the Yavapai County Courthouse Plaza.