Supreme CourtAssociate Justice Anthony M. Kennedy joins other justices of the U.S. Supreme Court for an official group portrait at the Supreme Court Building in Washington, D.C., on June 1, 2017. The 81-year-old Kennedy said Tuesday, June 27, 2018, that he is retiring after more than 30 years on the court.(J. Scott Applewhite, AP Photo, file)
Stories this photo appears in: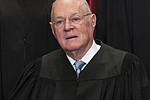 WASHINGTON — Justice Anthony Kennedy, the Supreme Court's decisive man in the middle on abortion, gay rights and other contentious issues, announced his retirement Wednesday, giving President Donald Trump a golden chance to cement conservative control of the nation's highest court.
By Mark Sherman, Associated Press
June 28, 2018