Investigators examine a driverless Uber SUV that fatally struck a woman in Tempe, Arizona. Police now say the human backup driver was streaming "The Voice" television show on Hulu just before the vehicle struck and killed a pedestrian in March. (National Transportation Safety Board)

Stories this photo appears in: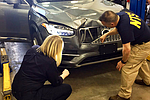 PHOENIX — The human backup driver in an autonomous Uber SUV was streaming the television show "The Voice" on her phone and looking downward just before fatally striking a pedestrian in suburban Phoenix, according to a police report.
By TOM KRISHER and JACQUES BILLEAUD, Associated Press
June 22, 2018