President Donald Trump signs an executive order to keep families together at the border, but says that the 'zero-tolerance' prosecution policy will continue, at an event in the Oval Office of the White House in Washington, Wednesday, June 20, 2018. Standing behind Trump are Homeland Security Secretary Kirstjen Nielsen, left, and Vice President Mike Pence. (AP Photo/Pablo Martinez Monsivais)
Stories this photo appears in: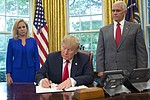 WASHINGTON — Bowing to pressure from anxious allies, President Donald Trump signed an executive order Wednesday ending the process of separating children from families after they are detained crossing the U.S. border illegally.
By Jill Colvin and Colleen Long, Associated Press
June 20, 2018