In this June 1, 2018, file photo, children hold signs during a demonstration in front of the Immigration and Customs Enforcement offices in Miramar, Fla. The Trump administration's move to separate immigrant parents from their children on the U.S.-Mexico border has turned into a full-blown crisis in recent weeks, drawing denunciation from the United Nations, Roman Catholic bishops and countless humanitarian groups. (AP Photo/Wilfredo Lee, File)
Stories this photo appears in: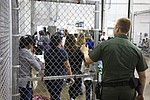 An unapologetic President Donald Trump defended his administration's border-protection policies Monday in the face of rising national outrage over the forced separation of migrant children from their parents. Calling for tough action against illegal immigration, Trump declared the U.S. "will not be a migrant camp" on his watch.
By ZEKE MILLER & KEVIN McGILL, AP
June 18, 2018