Think we didn't get much rain this weekend? How about this image of roof rain in Chino Valley – from 11:45 a.m. to 1 p.m. Saturday, June 16. (Ursula J./Courtesy)

Stories this photo appears in: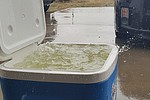 In a world in which we hear so many negatives — such as immigrant parents and children being separated at the border — there must be some positive news out there.