Jeremiah G. Peacey in a surveillance photo released by police. Investigators say Peacey admitted to taking a suitcase full of cash from the Kingman Walmart store on June 5, 2018.
Stories this photo appears in: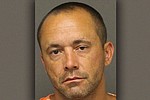 Jeremiah Grant Peacey, 39, of Kingman, arrested June 12 in connection with an investigation into a large amount of cash reported stolen in Walmart, was in court Thursday and has a pretrial conference set for 11 a.m. July 23 in Mohave Superior Court before Judge Richard Weiss.
By Travis Rains, Kingman Daily Miner
June 28, 2018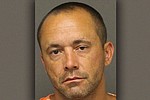 Police have arrested Jeremiah G. Peacey, 39 in connection to an ongoing investigation of a large amount of cash that was reported stolen June 5 from underneath a shopping cart at a Kingman, Arizona Walmart.